Ancestry.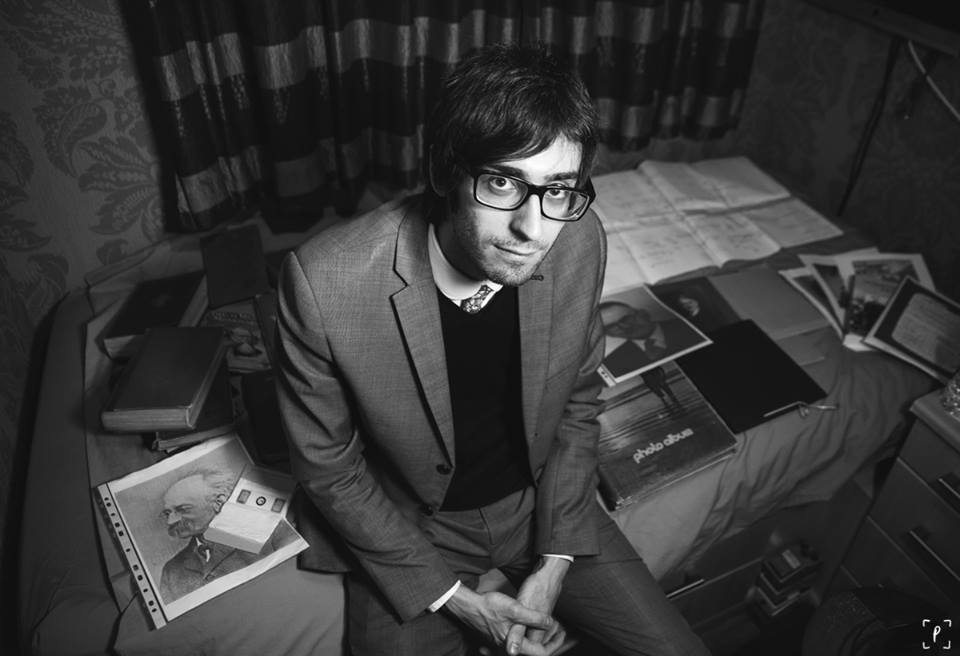 Photo by Kris Askey - February 2015.
Beginnings.
Photo by Kris Askey - February 2015.
One evening back in the early 2000's, dad arrived home with a cardboard tube containing a family tree spanning six-sheets of A3 paper. My grandfather had given it him; however, its origins remain a mystery. A letter from Derek Enock to my dad suggests that the tree was created by Joyce Hoad.
Joyce had traced our branch back to a Richard Enock who was born in the Warwickshire village of Radway c1600. I didn't recognise a single name before my great-grandfather, Robert Doeg Enock, but I was captivated.
The tree disappeared for a number of years, but was rediscovered a number of months into my research. It has proved to be a useful source; by comparing the two trees I have been able to confirm that our research is correct, and discovered lines that had been overlooked.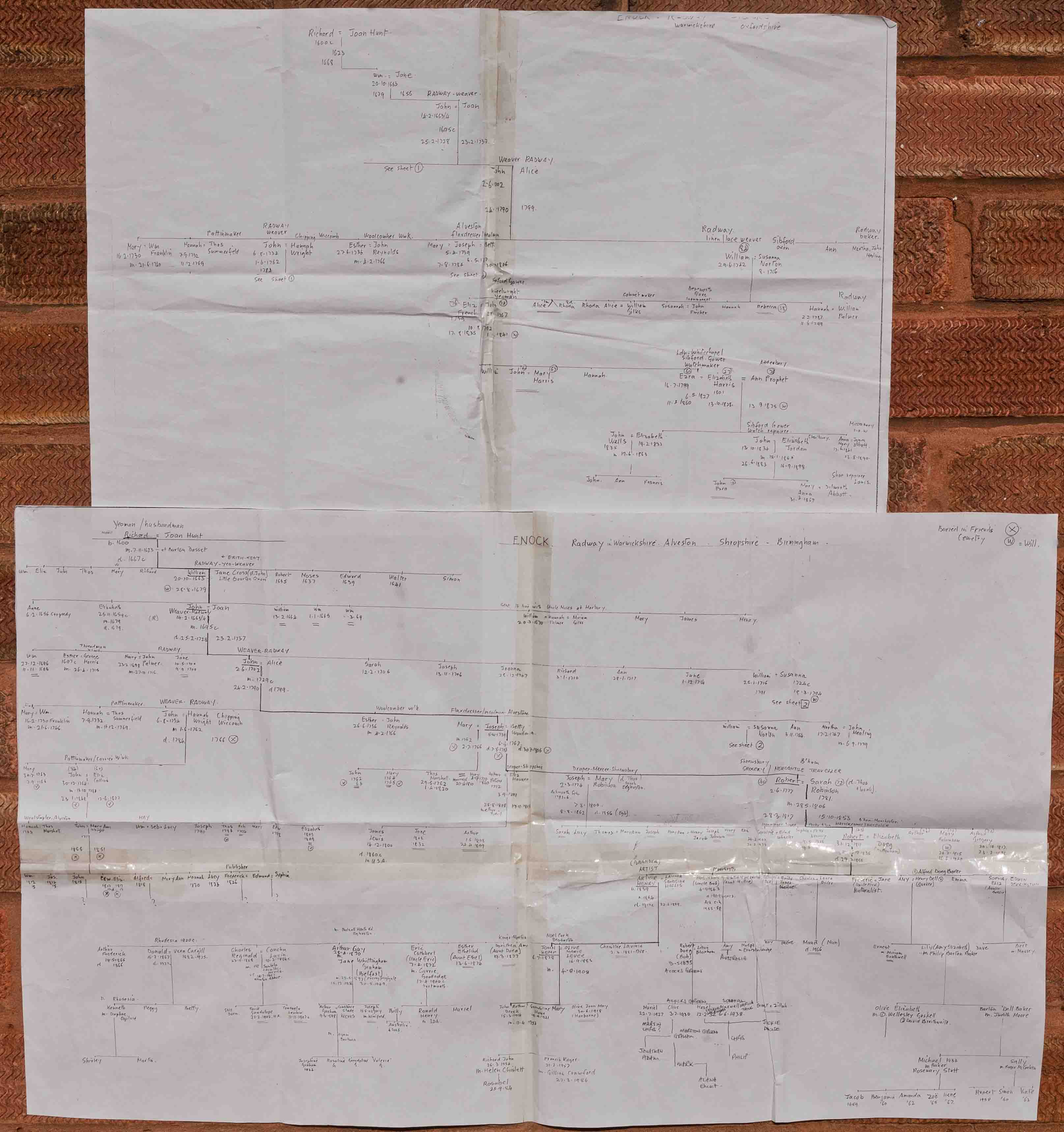 The Enock family tree by Joyce Hoad? (Click to enlarge).
My interest in the Enock name was rekindled on the evening of Wednesday, 30th January, 2013, when my partner, Jennifer, discovered a website that appeared to hold the history of her family name, and her coat of arms. Naturally, I was eager to learn about the origins of my name so performed a search.
The website states:
"Sound was what guided spelling in the essentially pre-literate Middle Ages, so one person's name was often recorded under several variations during a single lifetime. Also, before the advent of the printing press and the first dictionaries, the English language was not standardized. Therefore, spelling variations were common, even among the names of the most literate people. Known variations of the Enoch family name include Enoch, Enock, Enoke, Enocke, Enochs, Enos and others."

"First found in Hampshire where they held a family seat as Lords of the Manor. The Saxon influence of English history diminished after the Battle of Hastings in 1066. The language of the courts was French for the next three centuries and the Norman ambience prevailed. But Saxon surnames survived and the family name was first referenced in the year 1148 when Enoc was recorded with taxable assets."
Two questions sprang to mind: where did this information come from and how accurate is it?
I conducted a few extra Google searches and eventually stumbled across an iPhone app developed by www.ancestry.co.uk.
By inputting details of your close family the app builds a virtual tree. I started with myself, obviously, then added my parents, grandparents, and when I reached great-grandparents the magic began to unfold. I purchased a copy of Clive Enock's birth index record, and discovered that his mother's maiden name was Bloxham. As soon as I inputted this information into the tree, numerous hints began to appear.
One hint was a medal index card belonging to my great-grandfather, Robert Doeg Enock. According to the card, Robert served with the Oxfordshire and Buckinghamshire Light Infantry. I knew he was involved in The Great War, but didn't know what regiment he belonged to. My grandfather, Clive, confirmed that Ancestry was correct.
How did I conduct my research?
I managed to get back to the 1840's with no difficulty at all using the following collections:
1841, 1851, 1861, 1871, 1881, 1891, 1901, 1911 census returns.
The outline of the tree was constructed using information gleaned from the 1841-1911 census returns.
All of my great-grandparents were alive when the 1911 census was completed. Seven out of eight were aged between 16 and 20 years and all eight were single. As a result of this, I was able to discover 2nd-great-grandparents (great-uncles/aunties also) easily as the families were living together.
The census returns were utilised in four ways:
to estimate birth years

to determine place of birth

to ascertain family connections

to track movement around the country
Birth, marriage and death indexes (1837-2000).
Birth, marriage and death indexes were used to reinforce information detailed in the census returns.
Pre-1837.
Indexes came into existence in 1837 with the establishment of general registration. Up until that point, births, marriages and deaths were recorded in parish records which are of a less detailed nature, and are far from complete.
Parish records can be very difficult to work with as information is minimal and mostly illegible.
Fortunately for me, the majority of Enocks were Quakers. Quakers were, and still are, known for their meticulous record keeping. Their records hold an extraordinary level of detail, for example, marriage records include names of extended family and words of vows.
I discovered that a number of records are available to view online via www.bmdregisters.co.uk. Using this website, I was able to move back a further three generations to a John Enock, who was born in the Warwickshire village of Radway in 1702.
UK, Mechanical Engineer Records, 1847-1930.
A number of Enocks were members of the Institution of Mechanical Engineers. Ancestry has a number of Enock applications that provide detailed information on education and employment history.
Broadening the search.
Over the next few months the tree grew rapidly, but I soon became frustrated with discovering the basics - I needed to broaden my search.
The Loft.
My first task was to sift through the loft. I have uncovered a number of items including newspapers, an old diary, a rudimentary family tree, 20(+) years of letters, photographs and paperwork.
Letters.
In June 2013, with an aim of building relationships, I decided to write to four distant relatives. To my surprise, I received a reply from each.
One of the replies was from grandfather's cousin, Ernie Wildridge. We exchanged a number of emails, and he kindly invited me to his house for coffee.
The visit took place on the morning of Saturday 29th June and lasted approximately one-and-a-half hours. It was a special moment for me as I had never met an Enock outside of Robert Doeg Enock's branch. It was wonderful to hear about my ancestors from a different, unbiased perspective.
Joan Enock.
Another letter insisted that I write to Joan Enock as she is: "steeped in family history, has her own tree and knows all about the explorers, inventors, artists, writers who make up the fascinating Enock family". I wrote to her immediately and she replied with a rough sketch of the tree and an accompanying letter written by her friend stating that I must visit if I'm ever in the area.
On Friday, 24th June, 2016, I did exactly as she'd asked and visited. I found her to be everything I expected; witty, lively (which is amazing considering her age), and has a wacky sense of humour.
The visit lasted for just under three-hours, during which Joan talked openly about her life, from childhood to adulthood, to being "very ancient". It was very interesting to hear her thoughts about the changes that she has seen over the course of her long life in this "barmy world". She spoke at length about her immediate and wider family with great enthusiasm.
I have transcribed our conversations, and have posted her comments on various Enocks on their respective pages. It wasn't possible to ask all of the questions I had planned in one sitting, so will have to arrange another visit in the not to distant future.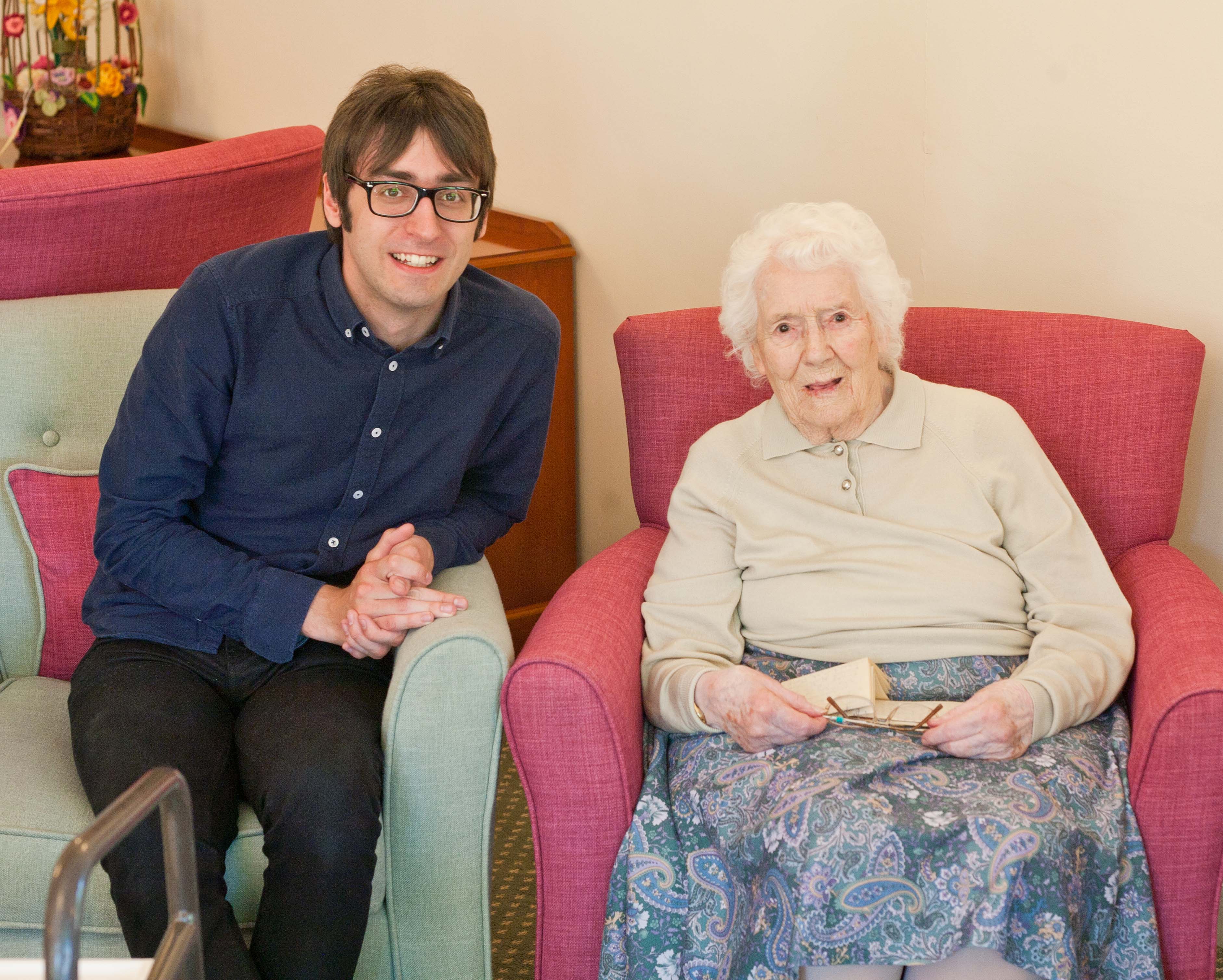 Second cousins once removed meeting for the first time - Friday, 24th June, 2016.
Ackworth School.
I discovered numerous Enocks listed in a book titled: 'List of the Boys and Girls Admitted Into Ackworth School During the 100 Years from 18th of 10th Month, 1779, to the Centenary Celebration on the 27th of 6th Month, 1879'. I explored the Ackworth School website and discovered an email address for the resident archivist, Celia Wolfe.
I e-mailed her on the 21st May and received a package on the 19th June. Celia had uncovered a wealth of information including:
details from admission books

copies of committee minutes

a survey of the fortunes of those Ackworth Old Boys who had been at school between 1899 and 1843

entries from pocket money books

memorial notices from the old scholars' annual reports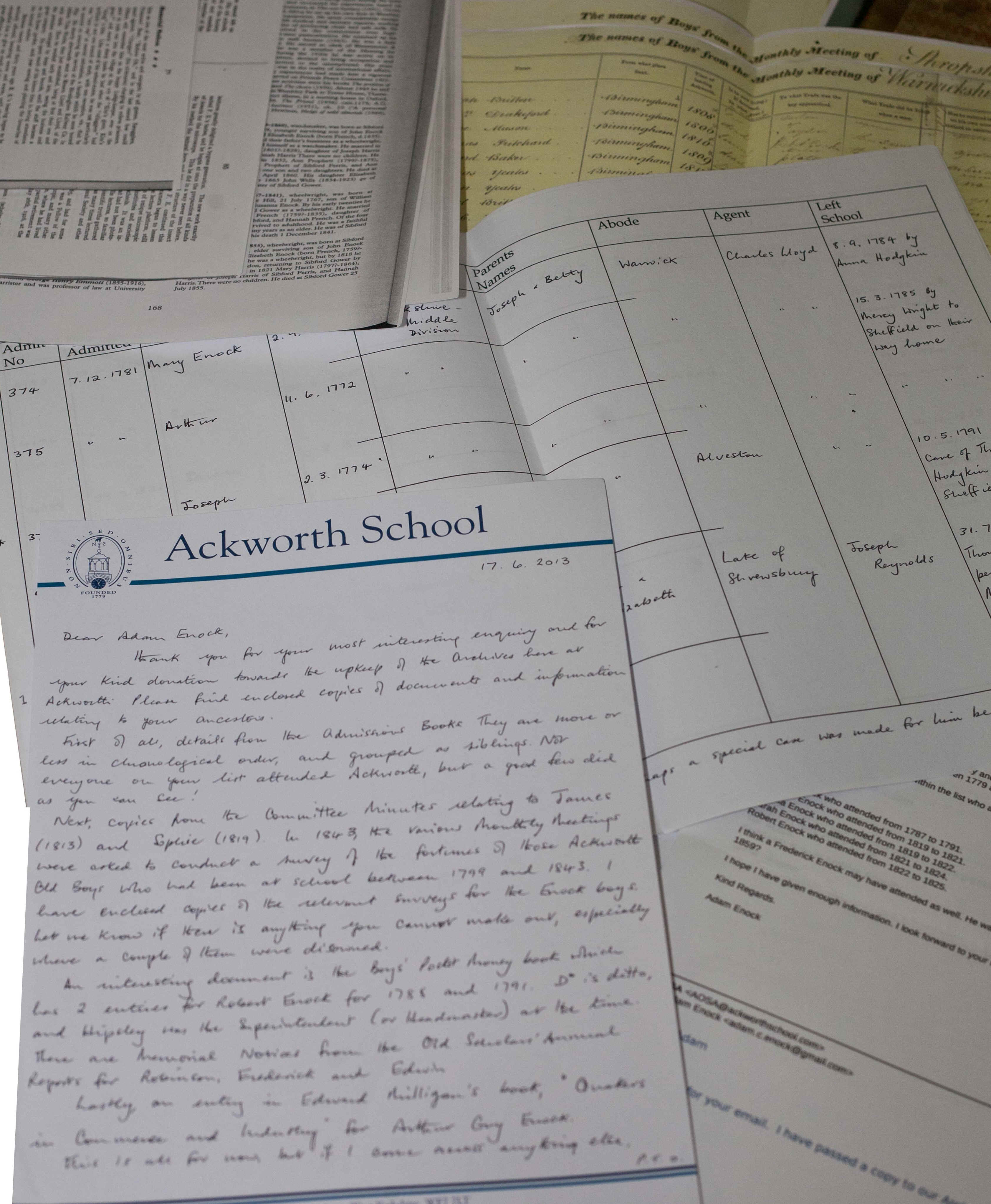 Ackworth documents.
Search Engines.
Search engines have proved to be very effective in my research. I have discovered:
examples of Arthur Henry's paintings, and information such as: he was entirely self-taught, noted for his handling of mist and sunlight, known as the 'Artist of the Dart' and exhibited a total of seventy-four works between 1869-1910.

an informative website dedicated to the history of Baker Perkins. Here I found pictures, and information on Barton Dell Baker, John Wellesley Gaskell and Philip Barton Baker.

books written by Charles Reginald Enock available to view online for free via www.archive.org. I stumbled across seven diaries of his that are held by The Imperial War Museum in London - they are now part of my collection.

a wealth of information on Edmund Wheeler Junior (1836-1930), his mother, Caroline, and his uncle Fred Enock using: http://photohistory-sussex.co.uk/BTNWheelerEdmundjnr.htm.

numerous sites discussing Fred Enock's work including: http://www.nhm.ac.uk/resources/research-curation/projects/chalcidoids/pdf_Y/Kryger950.pdf and http://www.nhm.ac.uk/resources/research-curation/projects/chalcidoids/pdf_Y/Hincks950.pdf. There are countless images of his slides on the Internet.

Paul Alan Enock was an Olympian. His sporting history and picture were both found here: http://www.sports-reference.com/olympics/athletes/en/paul-enock-1.html.

a copy of Thomas Robinson's will detailing Sarah Enock's (and her children's) inheritance.

the exact location of Robert Enock's shop in Shrewsbury by using details given in a book by Thomas J. Howell.

a book called "The History of Radway" by William Brook that discusses the area in 1700's, and the cottage where the 'Ennock' family lived.

Patricia Mary Temple Muir's children, and connection to Humphrey Lyttelton using: http://www.thepeerage.com/p31250.htm.

an obituary on John Philip "Pip" Wellesley Gaskell which contains very detailed information on his life. The obituary can be viewed here: http://www.theguardian.com/news/2001/sep/11/guardianobituaries.humanities.

information (and adverts) on various business relating to Enocks using http://www.gracesguide.co.uk/Main_Page.

information (and pictures) of Enock houses were found via Rightmove, and Zoopla. Historical information was sourced from sites dedicated to local history, i.e. Acocks Green History Society.
Record Offices.
Various record offices have supplied me maps and locations of various headstones including: Charles Robert Enock, Robinson Enock and Hazel Lochhead.

I have also found a photograph of Charles Reginald Enock in later life, and a copy of Charles Robert Enock's will.
Newspapers.
The majority of the articles that appear on this website were obtained via www.findmypast.com. www.lastchancetoread.com provided valuable information on Robert and Joseph Enock of Shrewsbury.
Maps.
All maps featured on the website were taken from www.old-maps.co.uk. These maps have proved to be invaluable when researching locations of houses.
www.enockfamilyhistory.co.uk
Ancestry is a brilliant concept, but due to its 'pay for access' policy, I feel it is limited in its reach. In August 2013, motivated by a sense of responsibility to preserve the past for future generations, I decided to set up www.enockfamilyhistory.co.uk. The website enables me to share/receive information, world wide; free-of-charge. Since going live I have received emails from not only the UK, but Germany and Australia.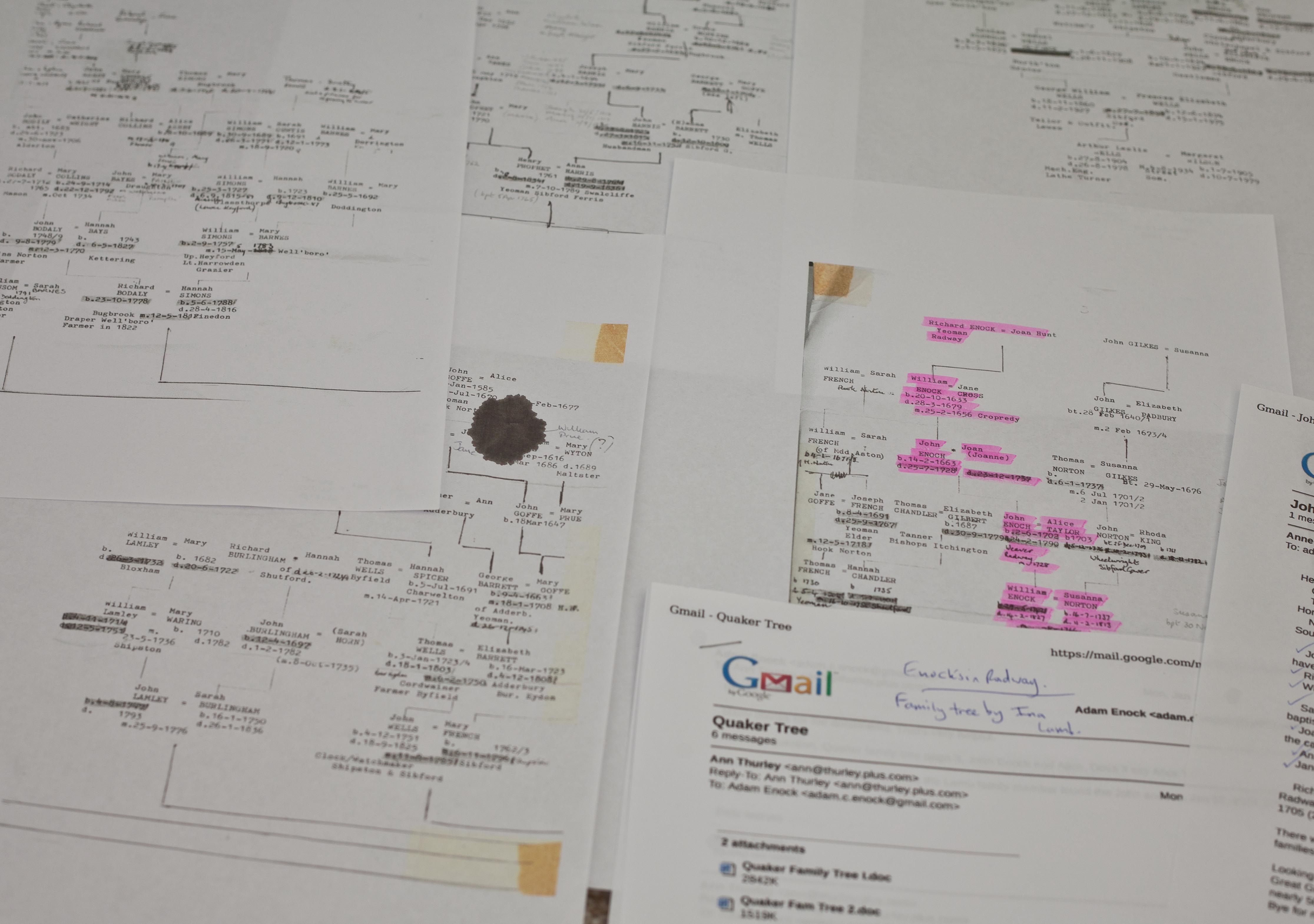 A example of information received since launching the site.
I received a most rewarding email was from Catriona Wesselhöft who resides in Germany. We shared a number of emails, and I later received a parcel from her containing items relating to Joe Enock. The parcel included: letters, photo albums and two books written by his father: Guy. I am most thankful to Catriona for her gift, one of the letters helped me overcome a 'dead-end' I had reached with Patricia Braithwaite Gaskell. As a result of the letter, I discovered that she was married to legendary jazz musician: Humphrey Lyttelton.
My Collection.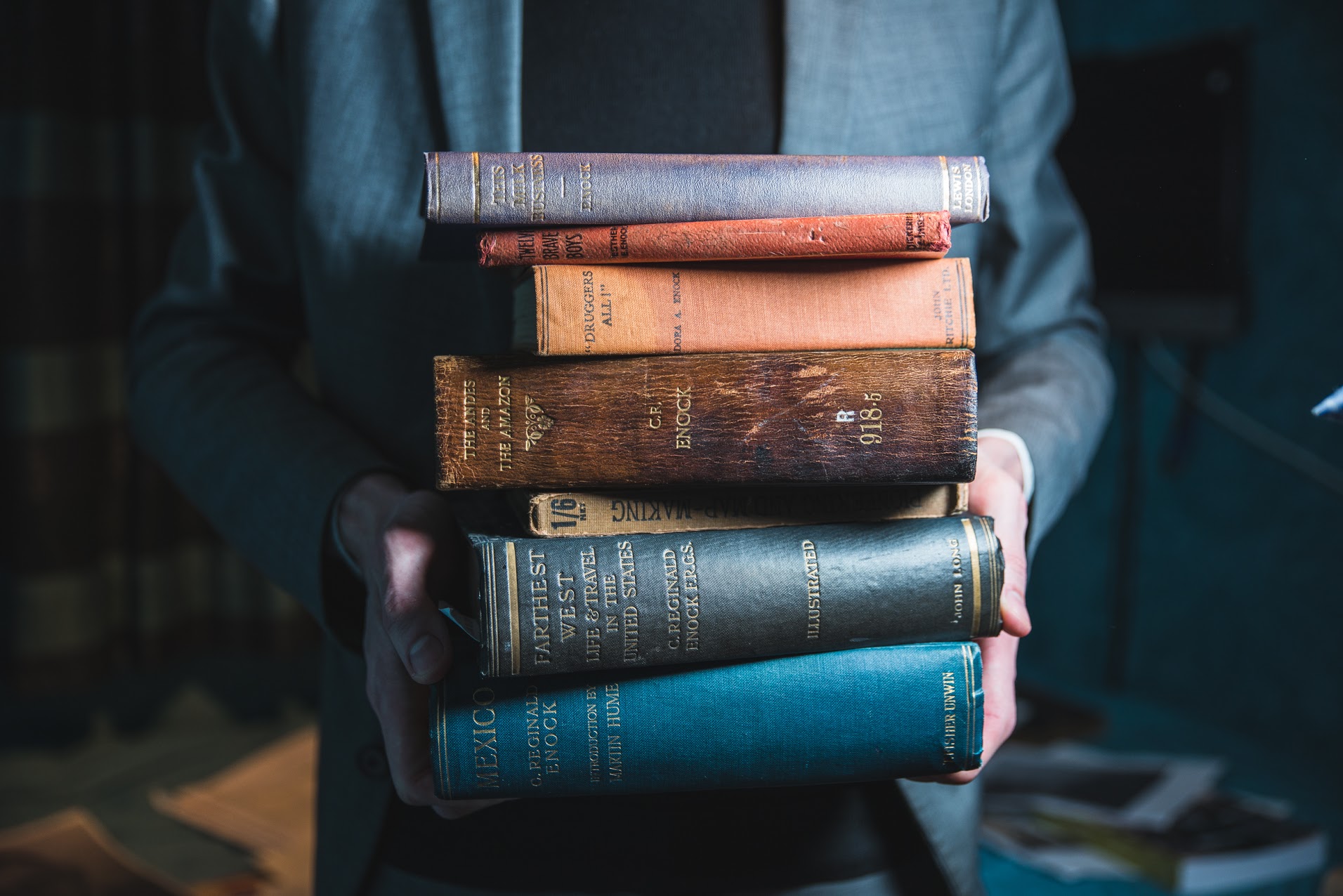 A few of my Enock related purchases - photos by Kris Askey - February 2015.
Page updated 21st October, 2016.