Date of birth: 1870.[2]
Birthplace: Edgbaston, Birmingham, England.[2]
Date of death: Saturday, 15th December, 1956 (aged 86 years).[3]
Place of death: The Acland Nursing Home, Oxford, Oxfordshire, England.[3]
Buried: Jordans Quaker Burial Ground, Jordans, Buckinghamshire, England (19th December 1956).
Signature:[5]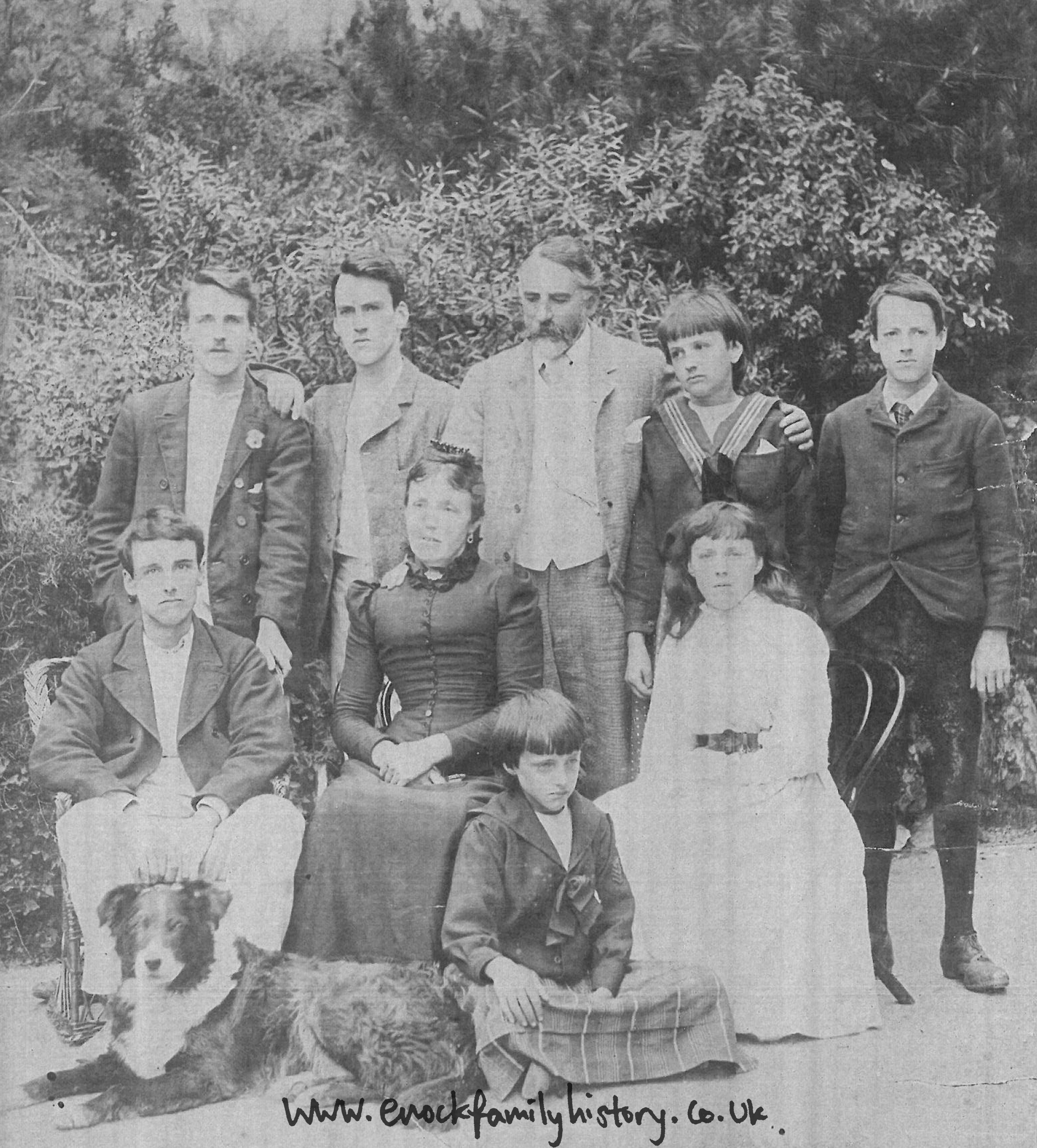 Guy with his parents and 6 out of 7 siblings - 1890s. Left to right (back) Eric, Guy, Arthur, Dora, Jack (middle) Donald, Lavinia, Ethel (front) Christine [1]
Father: Arthur Henry Enock (1839-1917).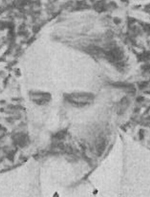 Mother: Lavinia Georgina Enock (nee Hollis) (1841-1899).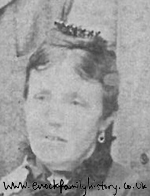 Siblings:

Arthur Frederick Enock (1865-1866)

Donald Enock (1867-1927?)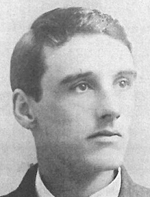 Charles Reginald Enock (1868-1970)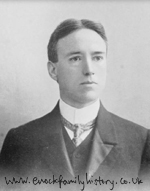 Eric Cuthbert Enock (1872-1952)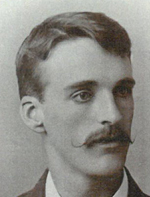 Esther Ethelind Enock (1874-1947)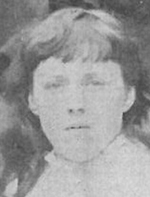 Dorothea Amy Enock (1877-1959)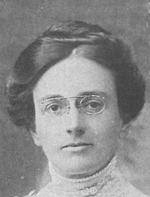 John Kemp Enock (1878-1957)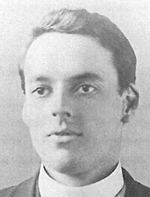 Christine Lavinia Enock (1881-1957).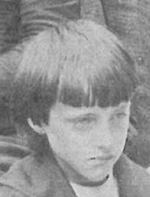 Wife: Jane Whittingham Graham (1869-1949).[6]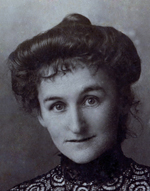 Date of marriage: 1897.[6]
Place of marriage: Presbyterian Church, Highgate, London, England.[6]
'I wish again to express my heartfelt gratitude to my wife who through more than fifty two years up to the time of her passing on the thirtieth day of May one thousand nine hundred and forty nine was my loving helpmate and steadfast partner despite her many years of great suffering and sometimes of helplessness and for the happy home life she created and for all her loving good cheer effort and endeavour directed through times of grief, trouble, failure, and success, to the help of me her husband, and to her sons, daughter-in-law, grandchildren, great-grandchildren and my brothers and sisters, and I thank God most reverently for our life together.' [3]

Children:

Arthur Graham Enock (1898-1985)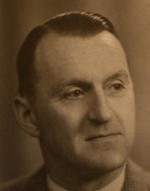 Joseph Guy Enock (1902-1983).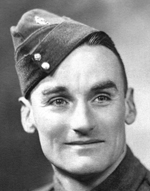 1870-1872 - 13 Balsall Heath Road, Birmingham (somewhere left of the river).[7]
1872-1875 - 62 Pershore Road, Moor Green, Birmingham (is this Park Place mentioned in 1884 OS?).[7]
1875-1880 - Middleton Villas, Middleton Hall Road, King's Norton, Birmingham (somewhere along this road).[7]
1880-1888 - 1 Park Place (Pershore Road?), Moor Green, Birmingham (no longer there).[7]
1891 - 11 Parolles Road, Islington, London. (with uncle Frederick Enock (1845-1916)).[7]
1900-1911 - 20 Church Road, Willesden, London.
1911-1915 - 21 Queen Elizabeths Walk, Stoke Newington, London.
1918-1920 - 12 Heathland Road, Stoke Newington, London. House demolished late 1950's/early 1960's, now apartments.
1920-c1924 - 'The Hut' (now Quorn Lodge), Featherbed Lane, Cowbeech (near Hurstmonceux), East Sussex, England.
Guy made a number of alterations to the property which were featured in 'The Studio Yearbook of Applied Art' published in 1921 (see below).
Dad lost a packet in the Hatry crash, (and our lovely place in Sussex had to be sold at a great loss).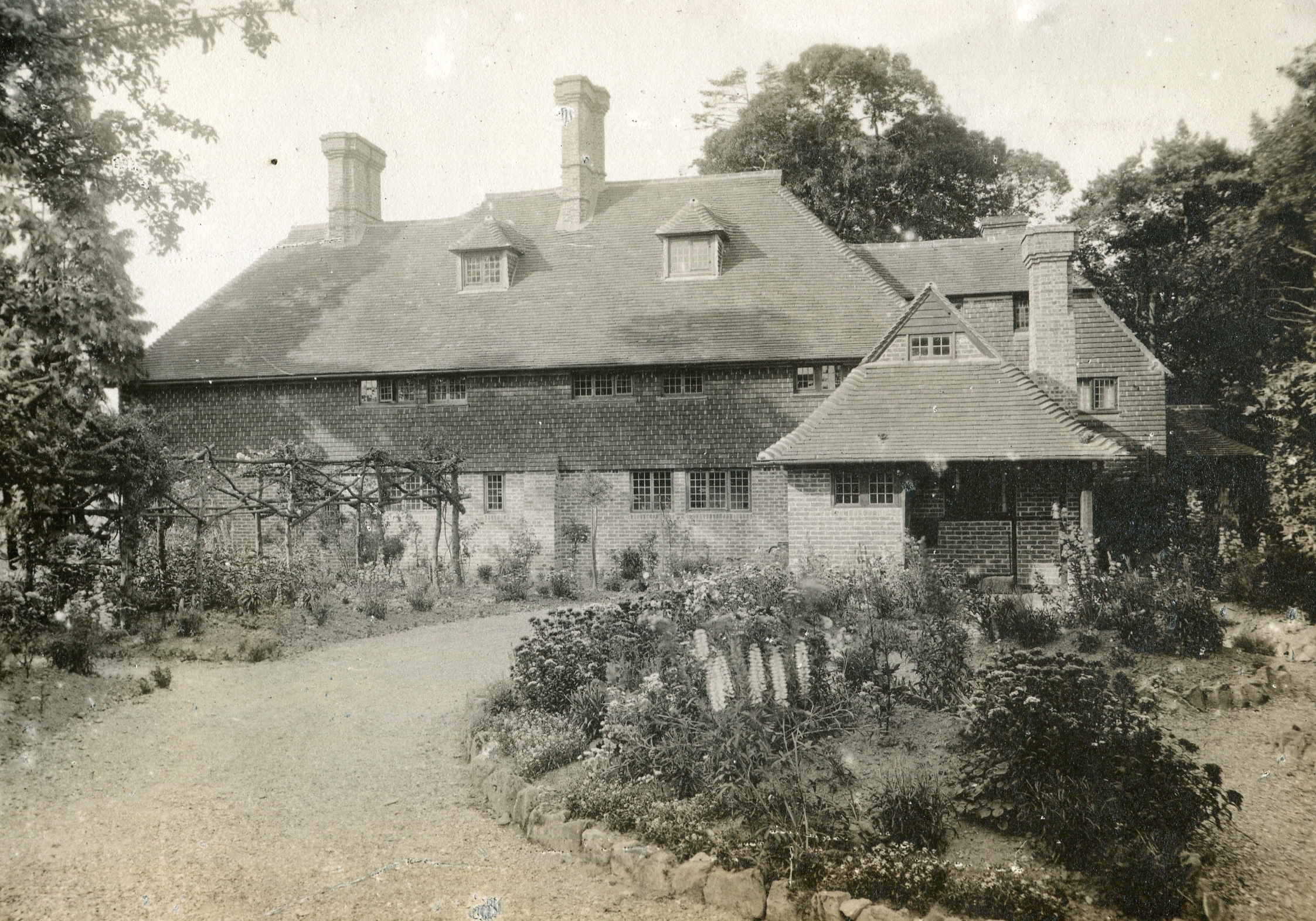 'The Hut' photographed in the early 1920s.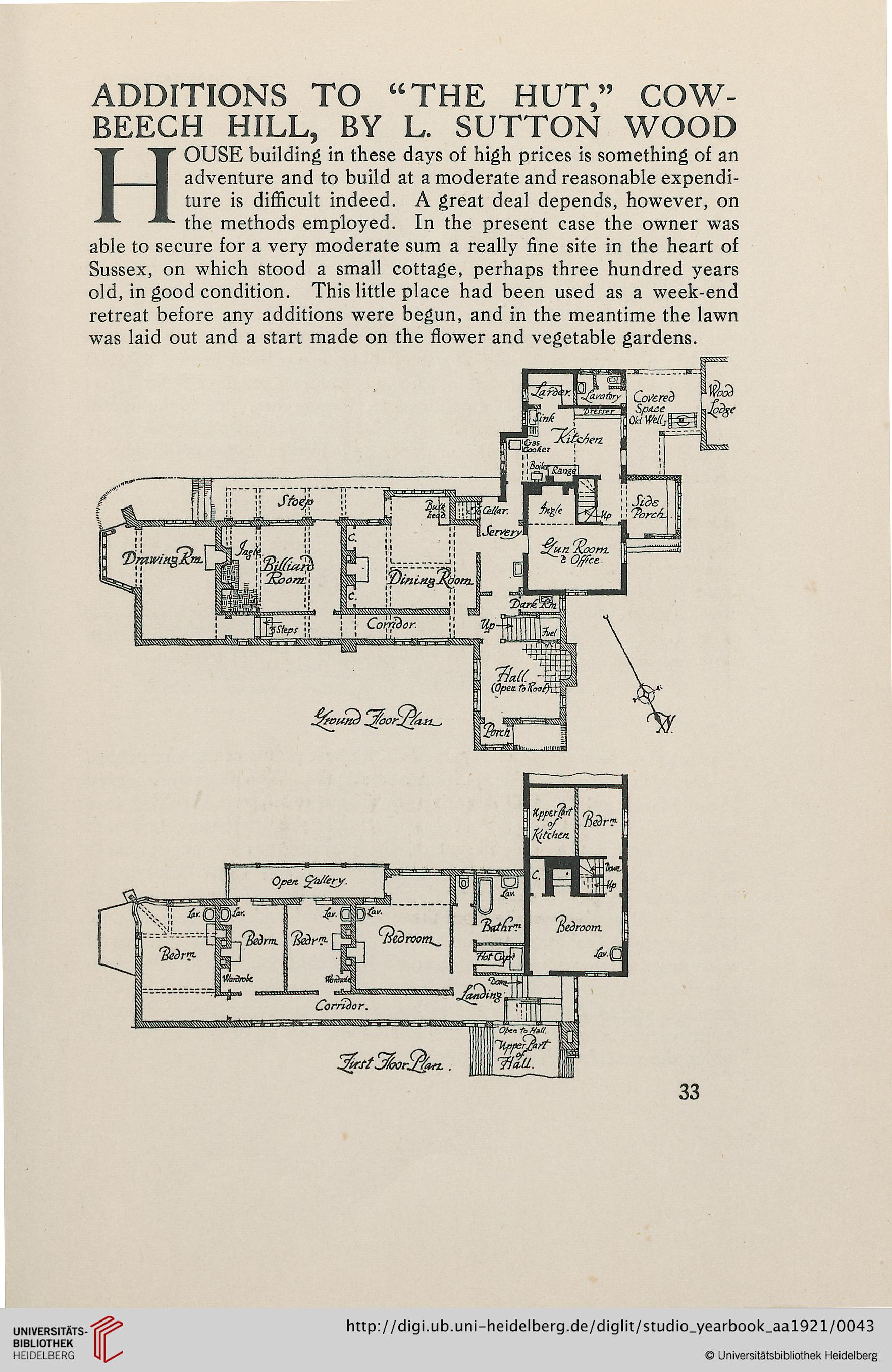 Click the above image to see the article on 'The Hut'
1928-1938 - 1, The Dutch House, Raglan Gardens (became Empire Way in 1935), Wembley, London.
1939-1946 - 1, Barnhill Road, Wembley, London (now a car park).
1946-1956 - Tower House, Chinnor Road, Thame, Oxfordshire, England.[7]
'During a film lecture in March, 1948, on Atomic Energy in the small town of Thame, Oxfordshire (my home town after my house was blitzed in London).' - Guy Enock.[8]
I am unsure as to which house was 'blitzed'. Guy moved to Barnhill Road in 1939 (before the start of the war) so it is unlikely to be The Dutch House. The 1946 Electoral Rolls show that Joseph was living at Barnhill Road without Guy. Guy had already moved out of the area when the house was still standing!
1878-1884 - King Edwards School, New Street, Birmingham, England (moved to Edgbaston in 1936, New Street Building demolished. The site is now occupied by a cinema).[9]
Took firsts in mathematics and drawing, and honours in South Kensington, machine drawing.[9]
'He was educated at private schools and at King Edward VI High School, Birmingham.' - Quakers in commerce and industry.[10]
1885-1889 - Midland Institute.[9]
Attended classes for electrical engineering and mechanical drawing.[9]
1891 census - Clerk.
1891 census - Engineer.
1911 census - Manufacturer of Ice Making and Dairy Machinery (employer).
'He started work on his fifteenth birthday, training as an engineer and speciailising in the field of refrigeration.' - Quakers in commerce and industry.[10]
'Arthur designed, built and managed equipment for wholesale treatment of milk to make it available to all children.' - Michael Thorne.
Some of Guy's patents can be viewed here.
1889-1891 - Messrs. J. Baker & Sons, Hythe Road, Willesden, London (apprenticeship).[9]
Joseph Baker's son, Philip Barton Baker, married Guy's cousin, Amy Dell.

Information on Joseph Baker & Sons can be found here.
------------------------------------------------------------------------
1891-1893 - Messrs. J. Baker & Sons, Flinders Lane, Melbourne, Australia.[9]
Sub-Manager of depot.[9]
1893 - Went to South Africa to give expert mechanical evidence in the case of Baumann v. King; afterwards carrying out the erection of the East End Bread & Biscuit factory in Durban. Designed and erected the plant of Richmond Canning and Curing Co of Natal including steam and power plant, processing, refrigerating. He also designed and erected the Cottesbrook Butter factory in Adelaide in Cape Colony.[9]
He was then engaged as Consulting Electrician to Natal Government Public Works dept to re-model the electric plant of the Houses of Parliament and to design an installation for the Government House & Government Lunatic Asylum. During stay in South Africa, he installed biscuit and power plant Messrs. Heather and Co, Pretoria, and Messrs Cole and Co, Cape Town.[9]
1897 - Returned to England and installed refrigerating plants for Messrs. Lisle & Co in London and Messrs. Fry & Co in Bristol.[9]
1898 - Went to Savona, Italy to install an ice plant. Returned to England the same year in company with his brother, Donald Enock. He designed Government cold storage stores for Pretoria, Durban and Johannesburg.[9]
1899 - Engaged with Transvaal Government as Consulting Engineer.[9]
------------------------------------------------------------------------
1900-1925 - Arthur G. Enock Co Ltd, Thane Works, Seven Sisters Road, Holloway, London, England.[9]
Position: Managing Director.
Engineers and Contractors - specialists in refrigeration for all purposes.
'On his return from South Africa he set up his own firm in Wembley to produce dairy equipment. He spent considerable energy, in consultation with medical and sanitary experts, working on the technicalities of producing clean and safe milk. He was closely involved in the controversy over high-temperature short-time pasteurisation. He summed up his experience in This Milk Business (1943).' - Quakers in commerce and industry.[10]

'Already, in 1925, I had parted finally with my interests in an engineering business, founded in 1900.' - This Milk Business
'In 1924 I finally parted with my controlling interest in Arthur G. Enock & Co. Ltd.' - This Milk Business
'During the First World War he sold his business under private agreement to United Dairies and retired in 1925'.
Had offices at 60 Dunsmure Road, Stamford Hill, London.
------------------------------------------------------------------------
1922-c1925 - Parkinson, Polson & Co, 30 Commercial Road, Eastbourne, England.
Motor Agents & Engineers
Position: Co-owner.
'He also sold out of his other firm, Parkinson & Polson, of Eastbourne at a loss. All this was quite unknown to us - except perhaps to Mother.' - Joseph Guy Enock
------------------------------------------------------------------------
1927-1931 - Burlectas Ltd, Palace of Industry, Wembley, London, England.
'The syndicate controlling all of Mr. Enock's patents was entitled Burlectas Ltd., Palace of Industry, Wembley, but as this company is now devoting its entire attention to automatic dairy work the name has been changed to "Auto-Dairy Pioneers"' - Industrial Refrigeration - Volume 81 - 1931
1931-1935 - Auto-Dairy Pioneers, Palace of Industry, Wembley, London, England.
Position: Chairman.
'He emerged from retirement in 1927 by founding Auto-Dairy Pioneers Ltd., whose name was later changed to Auto-Dairy Engineers Ltd'.
1936-1954 - Auto-Dairy Engineers, Palace of Industry, Wembley, London, England.
Position: Chairman.

Dairy and general engineers - sole manufacturers of Arthur Guy Enock's patents & inventions.
'...when his dairy plant firm at Wembley started to make munitions he would not draw his salary as Managing Director and sold 55,000 (the lot) of his £1 shares to the other Directors for 3d. each.' - Joseph Guy Enock


Memberships
Guy was involved in the following institutes:
Member of the institution of Mechanical Engineers

Member of the royal sanitary institute

Member of the institute of refrigeration

Fellow of the national institute for research in dairying

Foundation member of the society of dairy technology
'He was a fully commited Friend. He served as clerk of Westminster & Longford MM; he was a member of the Meeting for Sufferings; and during the 1930s he was active on its Allotments Committee, devised to bring occupation and subsistence production to the unemployed. His main concern, however, was in the realm of international affairs. His South African experiences had made him a vigorous peace activist; he served on Friends Peace Committee 1901-1928 [drafted the Constitution of the National Council for Peace Societies], and among other activities were his books The Problem of Armaments (1923) and The Choice (1956).' - Quakers in commerce and industry.[10]
'He spent a lot of time in South Africa, met such men as Kruger and did his best to stop the Boer War from starting.' - Michael Thorne.
Guy attended the seventeenth Universal Congress of Peace, held in London on the 31st July, 1908.

'At this banquet Rt. Hon. L. Harcourt, M.P. (Lulu), was Chairman, and with his inimitable courtesy gave the toast - "To the Ladies, once our superiors , now our equals." I was sitting vis-a-vis Baroness de Neufville whose chocking laughter and applause were highly infectious!' - Guy Enock[8].
Guy's engineering career took him to many corners of the world, and awoke in him a strong interest in international affairs.
In 1899, he made attempts with President Kruger, Jan Smuts and Francis William Reitz to settle the Boer and British dispute without recourse to war.
Guy talks about these attempts in his book, 'This War Business', which I have reproduced here in full.
The Problem of Armaments - 1923.
This Milk Business - 1943.
This War Business - 1951. See excerpts here.
The Plaything Peace - 1952.
The Choice - 1956.
The Friend - 1956.
'In my early days I yearned to see as much of it (the world) as possible, but transport was difficult and slow as compared with the facilities of today. Where I had to get about by steamers, slow trains, mule wagons, and horseback, my sons, grandchildren, and great-grandchildren fly at hundreds of miles an hour. But even in my limited travels of more than half a century ago many parts of the world were visited, such as Europe, Egypt, Ceylon, and Australia. A stay of nearly two years, 1892-3, in the last named continent, included visits to all colonies, with experience of their goldfields, and their vast resources of lead, copper, and other metals in Broken Hill. But one of the most impressive memories is that of the immense agricultural potentialities of the grain-growing Wimmera ; the irrigated fruit growing lands bordering the Mildura River ; the enormous sheep and cattle stations; the mountains and the woods of south-eastern Victoria (where I found at Enock's Falls and Enock's Folly some traces of my former relatives) ; the great jarrah and sandalwood forests of south-western Australia, marked on my map at school as the "Great Victorian Desert"!
Further experiences in Africa and America again compelled me to ask why human beings should fight each other for the essentials of life and the materials of their business and trade while there is abundant space, land, and materials for feeding, housing, and clothing the whole human family and for profitably absorbing its energies.

Australia greatly appealed to me - I think perhaps because there was no inter-racial rivalry such as that between the Boers and the Uitlanders in South Africa; also, the aboriginies of the former country did not present problems like to those in the latter.' [8]
'South Africa was not a union in those days. In fact it was disturbed and retarded by race rivalries and intrigues to an extent that was more and more alarming. I well remember being in Cape Town at the end of December, 1895, about to leave for Johannesburg, when news came that Dr. Jameson had crossed the Transvaal frontier from Pistani Pitlogo with under five hundred men of the British South Africa Company's troops. Cape Town was in a ferment and drinks going freely. A high municipal personage was seen waving his hat as he marched down Adderly Street crying: "We will drive those - Boers in to the sea." However, "Dr. Jim" and his party were outnumbered and defeated by the Boers near Krugersdorp on 1st January, 1896, and then, after another fight at Vlakfontien on 2nd January, surrendered, after losing twenty-one killed and forty-six wounded. The Johannesburg Reform Leaders who had simultaneously risen with the intention of joining forces with Jameson surrendered on 2nd January. The Kaiser sent his famous congratulatory telegram to President Kruger. The raiders are whitewashed in England. The resulting situation in South Africa was one of great delicacy and difficulty with mounting tension and ill-will.
A few months after the Jameson Raid my engineering work in South Africa seemed as though it were coming to a close - indeed my term of life on earth might have ended but for one of those turns of fortune which on experiences from time to time.
I rounded of current activities in Natal and embarked for home in the R.M.S. Drummond Castle on the 17th May, 1896. But at Cape Town a cable from England notified me of the shipment of an important plant of machinery and asked if I would postpone my departure and supervise its installation and test period. I agreed and left the ship on 28th May, the day she sailed for England. Pending the arrival of the machinery visits were paid to business friends at Kimberley, Bloemfontien, etc., en route to the Transvaal. On arrival in Johannesburg on the 17th June, I set out for a stroll down Pritchard Street and saw coming towards me John Quinn, an old business friend. He stopped suddenly a few feet in front of me and with white face and incredulous expression and at last exclaimed, "Good God Enock! How have you got here?" In a jocular way I replied "By mule-wagon, several trains, and on foot - but what is wrong?" His reply was rather staggering - "But the Drummond Castle went down yesterday with all hands, and of course we knew you had sailed in her." Explanations followed. The facts, as learned later were that on the last night of the voyage, in calm weather and under a clear sky, when about 140 miles from Plymouth with only the English Channel to cross, with band playing, dancing in full swing, and with passengers packing up to leave the next day, the ill-fated ship cut in too near Ushant on the French Coast, tore her bottom plating off, and went down instantly. French reports of eye witnesses on Ushant stated that the Drummond Castle came along too near the shore, a blaze of lights and with music easily heard, then slid downwards under the water. Actually three people were saved, one, Mr. Marquand, who was my cabin-mate as far as Cape Town, and two members of the crew.' - Guy Enock [8]
Hubert A. Nicholls.

Sir Eustace R. Pulbrook - Chairman of Lloyd's.

Francis William Fox - 'As a young man I learned a great deal from my old friend, Francis William Fox, from 1891 onwards. There is before me as I write a copy of his booklet, Some Historical Incidents in Connexion with the establishment of the International High Court of Arbitration, 1899, inscribed with his kind regards in 1901 after discussing my conversations with Paul Kruger and others at Pretoria.' [8]
Viscount Edward Grey of Fallodon - 'My personal contacts with Viscount Grey left an indelible impression of a quiet magnetism, a courteous understanding personality, and a charming conversationalist. I could never forget a talk we had at Queen Anne's Gate in September, 1917, when the possibility of a direct approach to the Kaiser was discussed. The details may not be related, but what emerged so strongly was his devout sincerity and a human sympathy of remarkable breadth. After some two hours of discussion he paused, and said he thought we had reached a joint conclusion! And then, suddenly looking at his was watch, he said:
"The C Minot Symphony at Queen's Hall is just about to commence. Let us go."
He knew his London well and we set out through short cuts, his long legs keeping my short ones on the run. But the hall was full. No persuasion or entreaty could gain us entrance. So we walked round the West End conversing till at half-past ten we landed at his club. There was a sense of friendly equality in our outlook and aims.
To me it was a high honour to exchange thoughts and discuss problems with him. A flash of dry humour appeared when he said that some of his Quaker friends thought he should have acted differently in 1914 and should have done something else, but they could not say what!
The inspiration gained at that talk was one of the main factors which determined me to endeavour to make a contribution to international affairs by writing The Problem of Armaments. I hoped and expected that he would write an introduction and sent him a typed copy in March, 1923, but his eyesight had become more and more impaired, and the copy was returned with a letter. I was filled with admiration at his writing personally instead of through a secretary, and under such great difficulty "...My limitations however need not discourage you..." What a true gentleman he was - and what a genuine lover of peace.' - Guy Enock [8]
Sir George Newman - 'My old friend Sir George Newman was Chief Medical Officer to the Minister of Health when Neville Chamberlain became Minister of that Department in 1923. Close personal contacts engendered the highest admiration for Chamerlain's personal qualities. In a letter to me from Menton in 1938 after his retirement he said:
'I hope you are a supporter of "Mons. Shamberlang." He has done wonderfully well I think. The trouble is we have got to live with these Dictators. I am against war every time. It is the greatest insanity on earth; also quote futile - both sides go to the shambles together; and the survivor has ultimately to give back all his winnings to the loser, at the Conference table. Why not first negotiate instead? But - [a well-known weekly publication] dare not breath a word, for or on behalf of, the greatest Peace Minister who has appeared in my life-time...But for him we should all be at it now. G.N. (January, 1938).'' - Guy Enock [8]
Charles Reginald Enock
'I cannot forget that Guy was away "on business" when the dad died. How could he go out of town when he knew the end was at hand?' ' [11]
'I shall never get over my surprise that Guy went away "on business" the day he died, out of town, and that I could not get hold of him.' [11]
'Heard from Guy during last week. He has not been able to complete the list of the dad's things! This being so "busy" is a peculiar trait of Guy's. We are all busy, but we ought to do these things.' [11]
Donald very bitter against Guy over some old patent question I gather and intends to "show him up". I have written him tonight advising him to let it rest: that life is too short.' [11]
Michael Thorne

'When I was home from school or university I found him the most interesting of Father's [Stephen James Thorne] visitors – he always had much to say, well worth listening to. I liked the cars he drove, open top, low doors with the hand-brake outside.'
Gwendolen Thomas (nee Enock).
'Grandparents Guy and Jane Enock lived in Wembley during the war and later moved out to Thame.
I can only remember my grandmother, Jane, as being profoundly deaf and always lying on a sofa with a shawl around her head. She had a charming Irish accent and was good at lip reading; when we visited her she would hand us a small writing pad and pencil, so that we could introduce a subject of conversation by writing it down and from then on she could converse by questions and lip reading our answers. She was affectionate, interested, and good to 'talk' to.
Every Christmas day my parents and us four girls would spend the day with the Enock grandparents and had the most wonderful lunch and presents and fun and games. There were always two Irish girl servants who lived in.
Grandfather Guy was a larger than life character with a very great number of skills and knowledge, particularly Botany and English wildlife and religion. To say nothing of his inventions and success in the Dairy Industry. A walk around the fields with him was fun and enlightening; he knew all the Latin names of things and was very skilled in finding hidden birds' nests. I remember him showing us a hidden nest of the long tailed Tit, or 'Mum Ruffin', and describing all the different ingredients that went into their exquisite nest. He was also a great orator and able to quote aptly from the bible and he put these skills to great use both in religious meetings and at Dairy Industry Meetings.
I know that he attended my father's wedding to Barbara, but Grandma Enock would never receive Barbara or have either of the two children (Anthony and Arabella) ever visit. She faithfully continued to receive and support my mother.
I know very little of their early days, but I feel that there was 'money' in the family, particularly in the wonderful mansion that they had owned in Hurstmonceux. One little amusing anecdote about the day of Guy's funeral in 1956 concerned his brother, Jack. The interment took place at Jordans, a well known, large cemetery and it was a very foggy winter's day: everyone was standing around the grave, concentrating on the rites, when out of the mist a man walked and he looked just like Guy!! Later my sister Josephine told me about it and how she and everyone was momentarily terrified because it seemed that Guy himself was walking towards them. It turned out that Guy's brother, Jack, had managed to get to the funeral but was a little late, on account of the appalling weather. No one had any idea that he was in England!
Guy was also an author of a few books.''[12]
Gross: £15,502. 19s. 11d. (worth around £348k in 2016)[4]
Nett: £14,932. 19s. 8d. (worth around £336k in 2016)[4]
Estate duty and interest: £1,200. 2s. 3d. (around £27k in 2016)[4]
Executors: Graham Enock, Joe Enock, Stephen James Thorne (recording clerk) and Edward Humphrey Bowen (solicitor).
Dorothea Amy Enock - legacy of £50, annuity of £96 during her life (paid quarterly).
Christine Lavinia Enock - legacy of £50, annuity of £96 during her life (paid quarterly). Old ladies writing desk that came from Ethel, framed pictures of Dartmoor by Arthur Henry Enock, parker pen.
Charles Reginald Enock - pecuniary legacy of £200.
John Kemp Enock - pecuniary legacy of £300. Bequeathed framed misty (blue) picture of fishing boats and old rowing boat outside Dartmouth Harbour, easy chair labelled 'Jack', spectroscope, telescope.
Olive Enock (John Kemp Enock's wife) - £50.
Robin Whittingham Graham (nephew) - legacy of £50.
Ronald Henry Enock (nephew) - legacy of £50.
John Arthur Derek Enock (nephew) - legacy of £50.
Enid Enock (niece) - legacy of £50.
Olive Enock (niece) - legacy of £50.
Robin H Bell (nephew) - legacy of £50.
Marjory Bell (niece) - legacy of £50.
Eileen O'Brien (niece) - legacy of £50.
Stephen James Thorne (friend) - legacy of £1,000. Bequeathed letters, papers, books, manuscripts, photographs. Binoculars & case, diaries.
Charles Benjamin Purdom (friend) - legacy of £25.
Maurice Fanshawe (friend) - legacy of £25.
Annie Smith (housekeeper) - legacy of £650.
British and Foreign Bible Society - £75.
Doctor Barnardo's Homes - £75.
The United Nations Association - £75.
The National Peace Council - £75.
Oxford Committee for Famine Relief - £75.
The Friends Trust - £600.

All the above trusts received the remaining two equal parts of the residuary estate.
'You may perhaps be wondering why I keep on harping about my lack of money and may not know that since 1924 the Enock fortune dropped disastrously. First of all Dad lost a packet in the Hatry crash, (and our lovely place in Sussex had to be sold at a great loss) then when his dairy plant firm at Wembley started to make munitions he would not draw his salary as Managing Director and sold 55,000 (the lot) of his £1 shares to the other Directors for 3d. each. He also sold out of his other firm, Parkinson & Polson, of Eastbourne at a loss. All this was quite unknown to us - except perhaps to Mother.' - Joseph Guy Enock
1. Photo provided by Richard John Enock.
2. England & Wales, FreeBMD Birth Index, 1837-1915- Name: Arthur Guy Enock, Registration Year: 1870, Registration Quarter: Jul-Aug-Sep, Registration district: Kings Norton. Inferred County: Worcestershire, Volume: 6c, Page: 426.
3. England & Wales, National Probate Calendar (Index of Wills and Administrations), 1858-1966 - Name: Arthur Guy Enock, Probate Date: 30 Apr 1957, Registry: Oxford, England, Death Date: 15 Dec 1956, Death Place: Oxfordshire, Oxford, England.
4. https://www.measuringworth.com/ukcompare/
5. Image taken from Guy's book 'This War Business', edited by Adam Enock.
6. England & Wales, FreeBMD Marriage Index, 1837-1915 - Name: Arthur Guy Enock, Registration Year: 1897, Registration Quarter: Apr-May-Jun, Registration district: Edmonton, Inferred County: Middlesex, Volume: 3a, Page 689.
7. Various documents - censuses, electoral rolls, telephone directories.
8. Excerpt taken from Guy's book, 'This War Business'.
9. www.ancestry.co.uk - UK, Mechanical Engineer Records, 1847-1930 - Mechanical - Typescript with notes - 1899-1900.
10. Provided by Celia Wolfe, Ackworth School archivist
11. Information and excerpts taken from Charles' diaries (held by the Imperial War Museum).
12. Conversations with Wendy - 6th January 2017.
Photos in slide show provided by Wendy Thomas and Catriona Wesselhoft